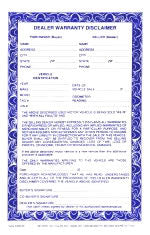 Dealer Warranty Disclaimer
Dealer Warranty Disclaimer Form.
Confirms purchaser's understanding

 that the dealer is not responsible for any warranty on the vehicle.

Disclaimer addresses expressed warranty.

Disclaimer addresses implied warranty including any implied warranties of merchantability or fitness for a particular purpose.
5 1/2" x 8 1/2"; 2-part, blue ink.
100 per pack.
---
We Also Recommend